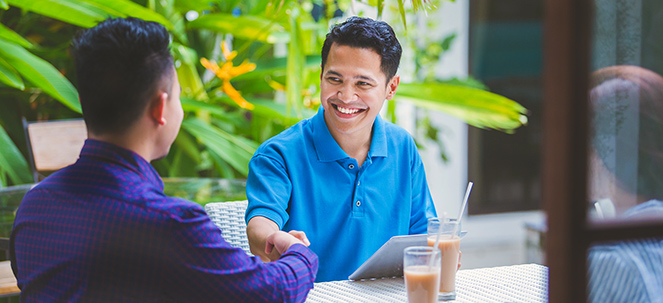 Dental benefits value
What's a smile worth?
A lot, actually. A healthy smile plays a big part in well-being. Partnering with the right carrier can even help boost your bottom line. How?

A healthy smile can create confident, successful enrollees
A smile is a powerful tool. In fact, according to Delta Dental's Adult Oral Health and Well-being Survey, 59% of adults say having good oral health makes them feel confident. And, more than half of adults say the quality of a smile influences overall success.1 When you offer a Delta Dental plan, you're not only creating healthier smiles, you're also creating confident, successful employees — which can help make your business or organization successful.

Dental benefits can increase productivity
Dental health is linked to overall health, but for those without insurance, dental care can be too costly. With budget-friendly plans and meaningful claims savings, Delta Dental can make healthy smiles more affordable — and adults with dental benefits are 50% more likely to visit the dentist at least once a year.1 With more than $6 million in productivity lost annually due to dental issues, offering dental benefits might be one of the smartest investments you make.2

The right dental plan can reduce total benefits costs
Delta Dental's plans prioritize preventive care and dentist access, which may be able to keep your healthcare costs low. Why?
Adults with dental coverage are more likely to seek preventive care.1

Delta Dental PPOTM enrollees are more likely to visit a network dentist than PPO enrollees of other carriers, which can translate to more overall claims savings and more stable rates.3

Routine dental exams can detect health problems early, and help to prevent more costly medical expenses down the road. If you contribute to a medical benefits plan, this can improve your organization's overall health spend.
Want to learn more about our dental benefits? Ask your broker.
Don't have one? Let's talk.
1
Delta Dental Plans Association, Adult Oral Health and Well-being Survey, 2017, 2014
2
Centers for Disease Control and Prevention,
https://www.cdc.gov/oralhealth/basics/index.html
3
"Network Utilization" — 2017 Dental PPO Study, Dental Actuarial Analytics (all plans). Total network utilization includes utilization for both the Delta Dental PPO network and the Delta Dental Premier network. Data represents in-network utilization for Delta Dental PPO visits and out-of-network utilization for Delta Dental Premier visits.
Check out
who we are
to see which company offers and administers dental plans in your state.